Welcome to Brevard Travel where our travel professionals have been providing expert advice and execution since 1971. We have always maintained a "no-fee-to-you" policy for planning tours, cruises, and resort vacations. We recognize that Brevard area residents are more sophisticated travelers since many have retired here after crisscrossing the world during their business careers. We realize that this requires that we must have a higher level of expertise, real-time information, and world-wide resources. In order to increase our level of service, five years ago, we became a Go Travel company, which is listed in Ensemble Magazine as one of the Top Ten Independent Travel Agencies in the US. We are located on Broad Street in the heart of Brevard. Our manager, Janice Adkins, has family roots in Brevard going back to 1799. We look forward to getting acquainted with you. Please stop by for a little chat at any time.


Janice Adkins, Manager

You won't find many people who have Janice's extensive travel experience. She has sailed the seven seas on almost every cruise ship and has visited a wide variety of countries around the world. You won't find many travel professionals like Janice who enjoy the meticulous planning required to create an exciting vacation for her clients. She has been very active over many years in the affairs of the travel industry (e.g. President of American Society of Travel Agents, Carolina's 2008-2009).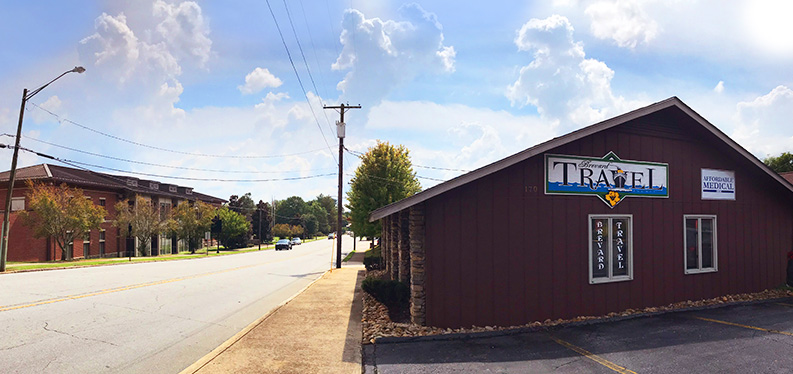 Our office is located on Broad Street, just a couple blocks from Main Street. We have a convenient parking lot as well as handicap accessible parking. Below, you can find easy directions from your area.


Directions from ASHEVILLE
From Ashville Airport, take highway 280 South 15.8 miles to Pisgah Forest intersection (Hwys. 64, 276 & 280) at Wal-Mart / Bi-Lo. Continue straight through traffic light on Hwy 64/276 – Go 3.6 miles and you willl see us a couple blocks after Main St. on the right.
Directions from LAKE TOXAWAY / CASHIERS / HIGHLANDS
Take Hwy. 64 East to Brevard. We are located on the left side of the road just opposite the Transylvania County Library which you will pass on your right.
Directions from HENDERSONVILLE / ETOWAH
Take Hwy. 64 West to Pisgah Forest intersection (Hwys. 64, 276 & 280) at Wal-Mart / Bi-Lo. Continue straight through traffic light on Hwy 64/276 – Go 3.6 miles and you willl see us a couple blocks after Main St. on the right.
Directions from CEDAR MTN / CONNESTEE FALLS
Take Hwy 276 North to Courthouse at Town Square. Turn left onto Broad Street, and then you will see our office on the right.





In addition to the amazing tours and cruises around the world that we offer, our company also organizes some very unique specialty theme cruises. Ask us for more details!

Elvis Cruise
Join our group of Elvis fans on the annual Elvis Cruise featuring an all-star cast of some of the most talented Elvis Tribute Artists in the industry.
Knit & Stitch Cruise
Set sail with fellow knitters on an unforgettable cruise full of learning, laughing and creativity.
Ballroom Cruise
Dance your way through the Caribbean with instruction by professional ballroom dancers. The cruise includes classes, comradery, and competitions.
Mystery Writers Cruise
Do you have a passion for writing? Want to master the art of developing a thrilling mystery? Learn from some of the top experts in the industry: an award-winning published mystery writer, coroner/forensic anthropologist, and a crime scene investigator. All at sea!
HERE'S WHAT SOME OF OUR CLIENTS HAVE TO SAY ABOUT US:
---
Thanks Janice! Throughout the planning of our daughter's honeymoon, you have been great. I will be back in touch soon and will recommend you everwhere I go.

- Carolyn H.
Dear Brevard Travel Team, we want to thank you so much for helping to find us a convenient hotel room at the very last minute when our trip was suddenly disrupted due to airline/weather delays. Furthermore, you were kind enough to take our call late on a Saturday night and make all the arrangements! As we had no mobile phone service, we would have very likely had spent the night in the airport if we hadn't had your help. Our cruise was relaxing and fun, and we can't wait to make a return trip someday. We are so pleased that we found you, and we will be back to your firm again!

- Roger E.
Theresa and I want to thank you for all that you did to make our complex trip come together this past June. We enjoyed everything so much thanks to you.

- Paul M.
Thank you so much for your interest and assistance on our cruise vacation arrangement. Your professionalism and understanding are greatly appreciated, and we would certainly plan to use your services on a future trip.

- Pfilip H.
We just checked into our hotel in Sydney and wanted to email you to let you know how happy we've been with all the arrangements you've made for us on this trip. All the hotels have been super and we even got an upgrade last night to a gorgeous villa! We were sorry we didn't stay longer than just one night!

- Lin K.
We are really enjoying ourselves! Thank you for all you've done for our family fun. We are having a terrific time!

- Harriet L.
Thank you for everything throughout the organizing of our trip. You are really "on the ball" and we appreciate your great attention to our needs!

- Betty P.
Huge thanks! You have gone above and beyond the call of duty in response to my request, and I will be telling everyone who asks what a great job you do!

- Rob F.
What a fabulous trip! Your recommendation for the restaurant in Athens was wonderful. The breathtaking views of the Acropolis and the Pariliament from there were just spectacular. Food was great too! We have so many wonderful memories, and we thank you for your expert help. Many thanks.

- Jean Merritt
Just wanted to tell you that our cruise was absolutely wonderful. Everything worked like clockwork. The hotel you arranged gave us a chance to enjoy Copenhagen, and my birthday was certainly celebrated in style. Thanks for planning this trip to remember!

- Jeannie S.
I really appreciate your follow-up to help me feel comfortable with our flight home including the connection in Rome. You are a PRO and it has been a true pleasure working with you.

- Dave S.
Thank you! I can't tell you what a relief it was when my husband called this morning to be able to say "I've called Janice, and she's got everything handled." I'll be so glad to see his feet on the ground soon in Ashville. Thanks for looking at all the angles and working out the best options for our needs. We get bogged down in all the lingo, and it's great to have an expert like you to swiftly maneuver through all the options for us.

- Susan W.
I wanted to let you know we had the trip of a lifetime! Everything went smoothly, and we loved our hotels. Really unique and close to everything! Cannot believe what we saw and experienced. Many thanks for all that you did to make it so special.

- Libby D.
Brevard Travel (828) 884-4000 -- 170 S Broad St., Suite #1, Brevard, NC 28712
A division of Go Travel Inc. -- Visit GoTravel.com for more details.